Digital distribution of media on the web has changed a lot of things for content creators. I don't philosophize about this much, so I'm not sure how satisfying this little ramble will be. You can lament the effect that the digital age has had on copyright infringement as much as you want–the reality is that the internet has given it unstoppable traction. Uploaded, infringed original material is everywhere. Whack-a-Mole is a fun little game when you're a young tyke, or seriously bored, but I definitely don't have the patience for it.
Which is where this little post comes from. Downloadable pdfs of our Astronomical Sketching book have started popping up on file share sites recently. The book has been out for nearly 4 years now, so I guess that's a testament to what a niche market it has, that somebody hasn't scanned and distributed it any sooner. I also discovered that the copy that's out there is actually a really good scan! Not that grungy rendition that Google Books originally did for their sample of our book.
When the first instance of infringement was discovered and kindly brought to my attention a couple weeks ago by Jay Eads, I contacted Rich Handy and he fired off a letter to Springer to let them handle the cease and desist notice (thanks again, Jay :). But I've run into so many instances on Google now, that the scan has obviously got a life of its own with a bunch of other recently uploaded material. One site even looked like it had nearly the entire Practical Astronomy series available for download!
If I actually made my living as an author or publisher, I imagine I'd be more than a little stressed about how to deal with the situation. There's no stopping it as far as I can see, so the questions I see are, how much does it cut into your income vs. the dedicated audience who is still willing to pay for the official copy? And if the cut is significant, is there any way you can change your strategy to take advantage of the new…(I refuse to use the word 'paradigm' but–d'oh!)…really though, what does adapting to this new reality look like? I don't know. It's not like the scanny-posty folks who are excited about your work, are just posting snippets of it to comment on and get others interested in purchasing your full material (which would actually be pretty cool). They're just serving up the whole thing, scanned & available for free download.
So, "it is what it is" as they say. One thing that did bug me though was a blogger with a "big passion" for astronomy who linked to a number of scanned books, including ours, and then took it to the next level by soliciting PayPal donations so he can "keep bringing you content like this". Heh 🙂 Can we have a slice too? I'm actually smiling as I write this–it's just that ridiculous.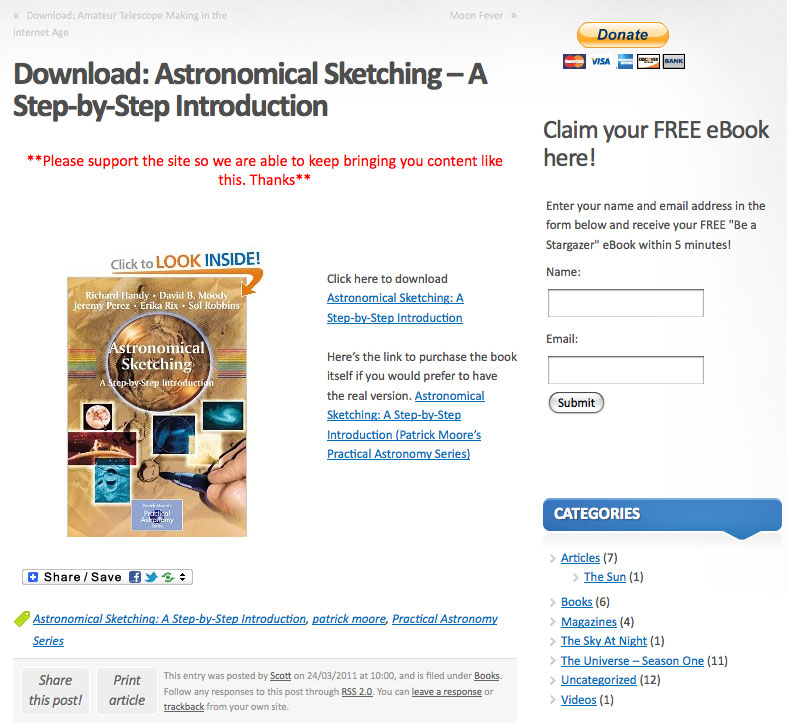 When it comes to astronomy writing, my impression is that most of the authors aren't making a living from their books–they're doing it because they love the subject, enjoy the process of researching and writing, are hoping to buy some new eyepieces (and are probably keen to be published too). If you're main goal is looking for an income source writing astronomy books, best head over to Taco Bell instead, fill out an application and make a few bucks more per hour.* So if someone was making a pittance on their books before, well now I guess they stand to make even less than a pittance after piracy takes her bite. Hopefully, as long as enthusiasts (and I consider myself an enthusiast) continue to write the material because they enjoy it, piracy won't kill paper or ePublishing. For those that are making a living from it…what a tough spot to be in. It would be interesting to discover if this kind of piracy hurts as much as apathy and the vast store of non-pirated info on the internet already does anyway.
Like I said, I don't have the philosophizing skills for this, I'm just rambling my way through it. Any experiences and thoughts from other writers & readers out there?
*FYI, article/column writing for the magazines seems to be a different story. In my experience, it can be much less punishing in the compensation per time spent aspect.