March 2, 2011 – 6:42 AM MST (1342 UT) a Juno Target Missile was launched from Fort Wingate, New Mexico toward the White Sands Missile Range.
I got up early this morning for a chance to view a morning twilight launch. My first view of a twilight launch was the evening launch of a Minotaur DARPAS rocket in 2005. It was a stunning sight to behold, and I didn't want to pass this opportunity up…even if it meant rolling out of bed at 5:30 to start the day.
One of my mistakes in 2005 was not being ready when the rocket contrail first appeared. The camera battery was dead and the lens unfocused. By the time I got the battery replaced and the camera only passingly focused, I had missed snagging better images. Not this time…but it was close. The SLR and video camera were on tripods, focused and exposures set with five minutes to spare! (The sketch pad was sitting there too, but that's another story for later.)
The launch window was from 6:30 – 7:30 AM MST (1330-1430 UT). I knew it would appear due east of Flagstaff (from Fort Wingate, NM) and head southward (toward White Sands Missile Range). What I didn't know was how much altitude it would gain. It wasn't going to be an orbital vehicle like the Minotaur launch, but I was also going to be much closer to the trajectory. As far as I knew, it was possible the visible trail could have been hidden by trees.
After 10 minutes of waiting, as the sky got progressively brighter, I had to wonder whether it had already launched but was too low to see, or too faint, or if the launch had been scrubbed altogether. Just as I was deciding how long to wait before twilight got too bright, I noticed a white, vertical contrail rising just to the left of a nearby tree. The trail disappeared behind a broad stroke of pink cirrus. Following its path upward, I saw nothing else along the anticipated path. I started shooting the gradually zig-zagging boost trail, wondering if that would be the extent of the display.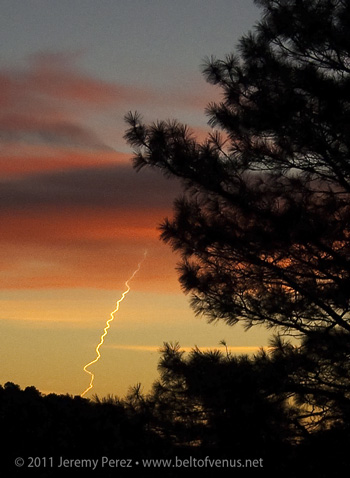 About a minute later, a brilliant swoop suddenly appeared high above the trees. After arcing southward for several seconds, the missile appeared to exit the lower atmosphere, and the exhaust started to do that strange, blossoming dance that seems to happen when it's not constrained by dense air. Shortly afterward, at burnout, its progress disappeared and the remaining trail of white mist slowly twisted up amid a canvas of blazing orange and pink cirrus.