Observation Notes
This year, I finally had opportunities to observe and sketch this amazing nebula in detail. The Flame Nebula snuggles the piercing glare of Zeta Orionis (Alnitak) and at first glance really does look like ghosting in the eyepiece. However, it would have to be a mighty large ghost! From the dark sky at Cinder Hills Overlook, the central dark lane is immediately apparent. With just a bit more time spent observing the field, radiating branches begin to emerge from this central trunk.
Placing Alnitak outside of the field stop definitely helps with assessing structure in the nebula. The east side was more complex with 3 main dark intrusions and some ragged bits near the center. A fainter extension hovered east of the brighter core region and seemed to hang preferentially around a star in the area before sweeping toward the south and merging with the brighter southeastern patch. The brightest regions were the two southeast lobes, the northeast portion of the next eastern lobe, and the center of the western lobe. The western lobe appeared less distinct, certainly due to greater interference from Alnitak's glare. I tried my UltraBlock filter, and found that it didn't help the view at all, but actually made details more difficult to see. The sky at Sunset Crater National Monument is really very good, and I guess there just wasn't much help that the filter could provide.
Although Alnitak's blazing light makes the observation more difficult, I still consider it to be part of the charm of this richly detailed nebula…so I made sure to include it in the sketch. Interestingly, at the time I sketched their position, the diffraction spikes were lined up almost perfectly north-south/east-west. I didn't plan that, but it was pretty striking when I rotated the sketch to a north-up position.
While driving home from both observing sessions, I was amazed by the appearance of the ponderosa pines in the headlights. They looked like the after-image of hundreds of Flame Nebulae reaching up into the freckled sky. What a fantastic experience.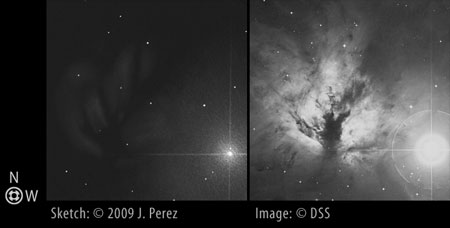 Subject
NGC 2024 (Flame Nebula)
Classification
Emission Nebula
AKA*
H V-28, GC 1227, CED 55P
Position*
Orion: [RA: 05:41:42.5 / Dec. -01:51:23]
Size*
30′ x 30′
Magnitude*
Unspecified
Date/Time
FEB 14, 2009 – 09:45 – 11:15 PM + OCT 31, 2009 – 04:00 – 05:00 AM
(FEB 14, 2009 – 04:45 – 06:15 UT + OCT 31, 2009 – 11:00 – 12:00 UT)
Observing Loc.
Sunset Crater National Monument, Arizona
Instrument
Orion SkyQuest XT8 Dobsonian (203 mm dia./1200 mm F/L)
Eyepieces/Mag.
Pentax XW10
Conditions
Clear, cold, slight breeze (both sessions)
Seeing
5/10 Pickering (both sessions)
Transparency
Mag 7.0 NELM (both sessions)
*Sources
NGCIC Project; DSS