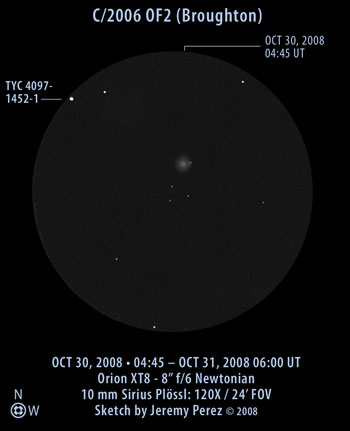 Move mouse over sketch above to view labels and different positions. Click image for larger version.
Observation Notes:
Two comets within the span of a week. It feels great to pull another one in. Comet 2006 OF2 was discovered by J. Broughton on July 17, 2006. It is currently making its way through Lynx at a very leisurely pace as it prepares to reverse course on November 15th and retrograde its way toward Auriga. So the next couple weeks are when it will be at its brightest. The Aerith.net site estimates a magnitude of 10.8, and it may brighten another couple-tenths of a magnitude over the next few days.
When I spotted it on the night of October 29th, it was a couple arc minutes north of a small triangle of 11th magnitude stars. At first glance, it appeared to have a stellar core and to be rather elongated. A closer examination showed that the comet was hovering next to a 12.7 magnitude USNO star. The presence of that star made it difficult to examine the extent of the coma, but I estimated a diameter of 1 arc minute comparing to the triangle asterism. It had a softly condensed core, and I couldn't verify any elongation. I checked on its position 3 hours later and noted it had moved eastward, but by a very small amount–perhaps 30 arc seconds or so.
I checked back in with the comet the following night and its new position was much easier to mark. It was still well within the boundaries of my original sketch field stop and appeared to have moved about 5-6 arc minutes to the east-northeast at a PA of about 70 degrees. Starry Night Pro showed a movement of 7.25 arc minutes at a PA of 63 degrees. This time it wasn't conjoined with a nearby star and I was able to estimate its appearance a little better. It appeared to be slightly elongated to the west with a size of about 1.5 x 2 arc minutes. The core still appeared to be softly concentrated.
Subject
C/2006 OF2 (Broughton)
Classification
Comet
Position*
OCT 30 04:45 UT – Lynx: [RA: 06:40:05.6 / Dec: +60:39:54]
OCT 31 06:00 UT – Lynx: [RA: 06:40:58.1 / Dec: +60:43:11]
Size
Coma: 1.5 x 2 arc minute diameter
Brightness*
~ 10.8 vMag
Date/Time
OCT 29, 2008, 9:45 – OCT 30, 2008, 11:00 PM MST
(OCT 30, 2008, 04:45 – OCT 31, 2008, 06:00 UT)
Observing Loc.
Flagstaff, AZ – Home
Instrument
Orion SkyQuest XT8 Dobsonian
Eyepieces/Mag.
10 mm Sirius Plossl (120X)
Conditions
Clear, calm
Seeing
5/10 Pickering
Transparency
~Mag 6.5 NELM
*Sources
Aerith.net; Starry Night Pro Plus 5.8