I'm going to broaden my content here just a bit, and I hope it doesn't prove too distracting to the main theme of the site. I'm a bit of a weather geek. I love watching and photographing clouds, storms, lightning, and other atmospheric happenings. I figure the link between my interest in those things and astronomy probably isn't too tenuous. I don't intend to overwhelm the site with weather related imagery, but I'm going to leave an opening for it.
And since I'm making that opening, I'm going to drop something in there today. Flagstaff has been soaking up a lot of wet weather over the last week. Our summer monsoon really stepped up due to a seasonally unusual trough of low pressure that had mosied down into Utah and Colorado. This low pushed the moisture around and pumped enough energy into Arizona to get some pretty fierce storms rolling Friday, Saturday and Sunday. Fierce enough that we had tornado warnings on Friday and Saturday.
On Friday afternoon, I left work at 5 pm to see if I could find the focus of the tornado warning on the west side of town. It turns out the warning was issued about an hour earlier when the storm was about 16 miles west of town. Patrick Lancaster captured this photo at about 5:08 pm. From my location, there was no wall cloud to be seen, but the upper reaches of the rain and hail band were glowing a lovely turquoise color. I did find the updraft column and it was looking nice and ragged. So I pulled the car over at Flagstaff Ranch Road and Interstate 40 to shoot a photo sequence as the storm moved east-southeast and boomed overhead.
After assembling and aligning the images, I prepared an animation. Each shot is separated by about ten seconds to get a time-lapse look at cloud motion. The video can be seen below. If you look at the central confluence, a series of counterclockwise updrafts can be seen. The storm wasn't strong enough to produce tornadic activity, but a few of the basic features were there.

Click link to view at YouTube where high res version is available.
On Saturday, the second tornado warning yielded a touchdown north of town in open range. Saturday's storms prompted a fast evacuation of Havasupai canyon as it was rushed by flood waters.
Then on Sunday afternoon, I was with the kids in the car when we started getting hammered by marble size hail. We waited out the hail, and then drove to the overlook on Mars Hill, just outside the entrance to Lowell Observatory. This spot has a perfect view of downtown Flagstaff. We stayed inside the car for protection from lightning, while I shot some more photos out the open window. There was a lot of spectacular lightning landing all over town, and it was awesome to see it from higher altitude.
Capturing a daytime photo of lightning is extremely difficult. At night you have the ability to leave the shutter open for a minute or longer to capture the flashes when they happen. However, when the sun is up, you can't do this. All you'll get is a washed out image. So you have to be ready to click the shutter as soon as you see a flash. But even then, it won't work unless the lightning has a lengthy flicker since you won't be able to capture the first short burst. You'll also want to go with as long of an exposure as you can handle–which for a handheld shot might be about 1/30 sec. This will give you some fudge factor, so that if you click between flickers you'll have a better chance of staying open long enough to capture the tail or beginning of a flash.
Since the odds are really low for a good daylight shot, I decided to shoot another time lapse, and also keep my reflexes ready to snap any lightning that flashed along the way. None of my 'reflex' shots worked, but when pressing the shutter for one of my time-lapse images, a bolt of lightning struck. It looks like it hit maybe a mile or so southeast of town, somewhere near Walnut Canyon.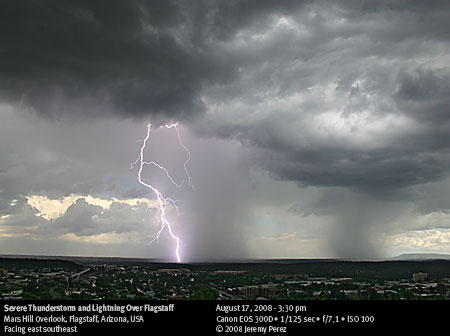 Click image for larger version.
The Arizona Daily Sun published the photo today on the back page (at a pretty nice size!). The Arizona Republic also featured it today on the back page of the Valley & State section. I'm a little stoked about that!
We got some nice photos during our trip to Oklahoma last week too, and I might try to share a few of those later, if the astronomy observations hit a lull.