Last Sunday night, my daughter asked if we could bring out the telescope and do some stargazing. Boy was that the kick in the caboose I needed! (As you can see by the M64 sketch I managed later that night.) As I brought the Dob out the front door, I noticed that she had her clipboard, paper and pencil ready: "I wanna sketch something…" she said as I crouched to keep the scope from banging into the door frame.
So awesome!
We started with Saturn, and I suggested that she try to draw the position of the moons so that we could check and see which ones she spotted. She saw Titan right away, and with a little more time, and urging from Dad, she picked up Rhea and Tethys too. After she finished her sketch, I had a look and grabbed a quick sketch myself–she made sure to complete my drawing with a sketch circle =D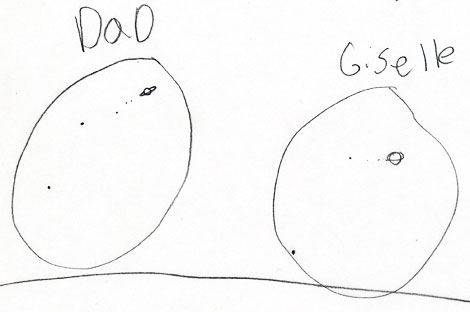 Move mouse over sketch above to view labels.
Next we had a look at M35 and she insisted on trying to sketch it. I let her have a go at it, but she got lost in all the stars so we moved right along for a quick look at Mizar and Alcor, and then on to a couple bright galaxies.
M81 and M82 were nicely placed in the sky, and after discussing what she was seeing, she got busy with the drawing. We didn't have any other sketching supplies with us, so she used the pencil eraser to fuzz the galaxies up a bit, and that seemed to do the trick!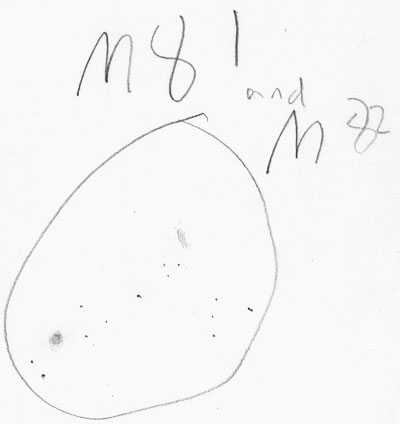 Move mouse over sketch above to view labels.
The air got chillier, and it was a school night, so we went inside and pulled up some photos of the galaxies she had just sketched. By that time, my son joined us, and we oohed & ahhed at some of the great shots Google brought up while discussing what was going on in those distant galaxies. My son was struck by the thought that near-collisions between them is what got M82 all stirred up and crazy looking. –speaking of 'looking'– I'm looking forward to the warmer nights, and doing that together some more as summer approaches.