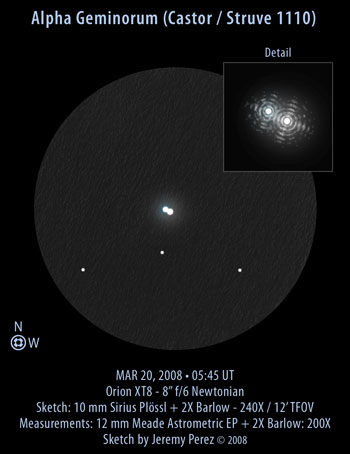 Click image for larger version
Observation Notes:
The fussy seeing provided a beautiful view of this brilliant double. The diffraction patterns shimmered and danced, adding a bit of challenge to viewing the pair, but also providing a mesmerizing, speckled light show. The primary of Castor appeared bright white while its companion hinted at a subtle blue.
Measuring this duo using the Dobsonian scope was very challenging. I was attempting the PA measurement without my external dial, and although it was very tough to get the primary to drift through the exact center of the eyepiece, the measurement worked out fairly well–differing from Workman's calculated 2008.2 value by only .8 degrees. The separation estimate was worse though, since I couldn't track and allow the stars to hover over the scale. (My estimate of 6.9 arc seconds was a bit over compared to the calculated value of 4.5 arc seconds).
Subject
Alpha Geminorum (Castor / STF 1110)
Classification
Multiple Star
Position (J2000)
Gemini [RA: 07:34:35.7 / Dec: +31:53:16]*
Position Angle*
59° [2008.2 my measurement]
58.2° [2008.2 Brian Workman's DS Calculator]
Separation*
6.9″ [2008.2 my measurement]
4.5″ [2008.2 Brian Workman's DS Calculator]
Magnitudes*
2.0 / 2.9
Spectral Types*
A1V / A2Vm
Date/Time
MAR 19, 2008 – 10:45 PM MST (MAR 20, 2008 – 05:45 UT)
Observing Loc.
Phoenix, AZ
Instrument
Orion XT8 (203 mm dia./1200 mm F/L)
Eyepieces/Mag.
10 mm Sirius Plössl + 2X Barlow (240X)
12 mm Meade Astrometric EP + 2X Barlow (200X)
Conditions
Mostly Clear, Gibbous Moon
Seeing
3-4/10 Pickering
Transparency
NELM Mag ~4.0
*References
The Washington Visual Double Star Catalog, 1996.0 (Worley+, 1996); Starry Night Pro Plus 5.8