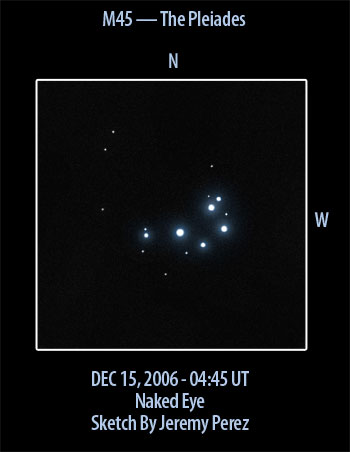 Move mouse over sketch to see labels.
Observation Notes:
On the evening of this observation, I headed to Sunset Crater National Monument with the kids to see if we could catch a glimpse of the Aurora Borealis. That turned out to be a bust. But the kids had fun taking turns playing Kit Fox & Prey as they chased each other around and around the cul-de-sac. Before heading home I decided to grab my stargazing glasses and make a naked-eye sketch of the Pleiades to see how many stars I could observe. I'm not sure where the Pleiades end and the field stars begin for a naked eye observation, but the sketch is presented above for you to decide.
If you play the boundary close to the cluster, it looks like I picked up 10 stars. If you widen that boundary to include 18 Tauri and HIP 17776, then the number goes up to 12. There is a confusing thirteenth 'star' plotted south-southwest of Alcyone (see question mark in the sketch mouse-over graphic). StarryNights Pro shows a couple 7th magnitude stars in this area in the midst of a string of trailing stars. I'm not sure if I saw one or the other, or the combined light of several stars in this string. So I'm not sure if I should count it. There is another faint star plotted east-northeast of Pleione that appears to be erroneous. I'm not sure if I misplotted a 6.5 mag star that's closer & more to the north of Pleione, but I'm definitely not counting that one.
When first glancing at the Pleiades, six bright stars are fairly easy to see: Atlas, Alcyone, Maia, Taygeta, Electra, and Merope. They are noted by blue in the mouse-over graphic. The next to reveal themselves with averted vision are Asterope, Caleano, Pleione, and HIP17776 (noted by yellow in the mouse-over graphic). Of these four stars, Pleione is the most difficult. Despite being relatively bright (5th mag.), it hides right next to Atlas. With a lot more time spent darting my eyes around the area and working to confirm repeated sightings, I picked up HIP17900, 18 Tauri, and the questionable speck south-southwest of Alcyone (see red labels in the mouse-over graphic). Without my stargazing glasses, six stars was as good as it got.
I found it entertaining to note the blinking effect the Pleiades exhibit as I looked directly at them, and then flicked my vision off to the side. The view changes from a geometric collection of solid points of light, to a misty spray in an instant. I definitely prefer the averted vision view. Give this beautiful patch of starlight a long look the next time you get a chance. See how many stars you can pick out, or just enjoy its concentrated brilliance.
| | |
| --- | --- |
| Subject | Pleiades / M45 |
| Classification | Open Cluster |
| Date/Time | December 14, 2006 – 09:45 PM MST (December 15, 2006 – 04:45 UT) |
| Observing Loc. | Cinder Hills Overlook, Sunset Crater National Monument, AZ |
| Instrument | Naked eye |
| Eyepieces/Mag. | N/A |
| Conditions | Calm, patchy, high thin cirrus |
| Seeing | – |
| Transparency | ~ Mag 6.8 NELM |