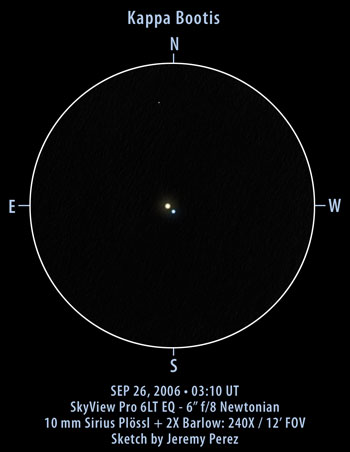 Observation Notes:
This was a subtle and uneven pair. The PA appeared to be 225° with a separation that was obout 1/36 of the 12 arc minute FOV–which works out to about 20 arc seconds. Actual values are 236° and 13.4 arc seconds.
The primary appeared pale yellow with a dull blue secondary. I became a bit frustrated when I was preparing the report for this observation because the primary of this pair is A7V with a F1V secondary. So if anything, I should have seen a light blue primary with a pale yellow primary or a version of that where one of the components was white. Instead I actually had the colors swapped. I decided to do some hunting to see what other observers saw. I found that quite a few that actually mentioned color noted the same swap that I did. Here are the links to those sites:
Search for "Kappa" at those links until you encounter Kappa BOO. These observers (as long as they are listing the primary first) are seeing a bluish secondary every time, and a white or yellow primary. This appears to be a pretty deceptively colored double. But not everyone was deceived:
Double and Multiple Stars and How to Observe Them by James Mullaney features a sketch by Sissy Haas that sports a white primary with a pale yellow secondary.
See also, Richard Bell's Double Star Log, where he also sees a white primary with a secondary that has a hint of yellow.
One suggestion I came across in James Mullaney's book is to stop down the aperture of the scope to 3 or 4 inches to see if that helps increase the strength of the star colors. I'll be paying a visit to the fabric store to grab one of those embroidery circles to set up an aperture mask and give this a shot.
| | |
| --- | --- |
| Subject | Kappa Bootis (STF STF 1821) |
| Classification | Double Star |
| Position (J2000) | [RA: 14:13:27.8 / Dec: +51:47:16]* |
| Position Angle* | 236° (1973) |
| Separation* | 13.4″ (1973) |
| Magnitudes* | 4.54/6.69 |
| Spectral Types* | A7V / F1V |
| Date/Time | SEP 25, 2006 – 8:10 PM MST (SEP 26, 2006 – 03:10 UT) |
| Observing Loc. | Flagstaff, AZ – Home |
| Instrument | Orion SVP 6LT Reflector (150 mm dia./1200 mm F/L) |
| Eyepieces/Mag. | 10 mm + 2X Barlow (240X) |
| Conditions | Partly cloudy, calm |
| Seeing | 5/10 |
| Transparency | NELM Mag 5.8 |
| References | The Washington Visual Double Star Catalog, 1996.0 (Worley+, 1996) and Catalogue of Stellar Spectral Classifications (Skiff, 2005) via VizieR |
*Based on published data.