One of the images I shot on November 5, 2005 centered on the constellation Orion and a swath of the Winter Milky Way. I had intended to optimize it further and label it, but I've been putting it off. There were a number of gradients and intersecting color casts that needed to be removed and it was no easy task. Well I finally dug into it, and was happy to see a decent capture of Barnard's Loop and the big pepperoni at the head of Orion, Sh2-264. The Rosette Nebula, NGC 2244, and the nebula surrounding the Christmas Tree Cluster, NGC 2264 also showed up nicely. This is with an unmodified Canon 300D, so I was pleasantly surprised to see enough of these HII emission nebulae to display at all.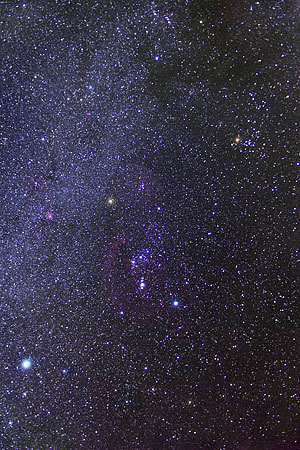 Clicking this image will take you to a larger image that has a rollover graphic showing labels for visible DSOs and constellations. (Combined size of the image and rollover is about 650K.)
[EDIT]: The steps I took to process the image can be found here.