[All images in this report can be clicked to view larger 80-100K images]
Saturday evening, November 19th, the Coconino Astronomical Society had a special visit from comet discoverers, Don Machholz and Carolyn Shoemaker. Carolyn, along with her late husband, Eugene, as well as David Levy co-discovered the comet, Shoemaker-Levy 9 in 1994. This is the comet that impacted Jupiter in July of that year. Don Machholz has discovered/co-discovered 10 comets over his career, the most recent, C/2004 Q2, was a fantastic naked-eye object that graced the skies last winter. I was really hooked by this beauty, and collected several observations:
Dec. 10, 2004
Dec. 11, 2004
Dec. 30, 2004
Jan. 1, 2005
Dec. 6, 2005
Don made a very entertaining and informative presentation to the group, highlighting the path his life took to lead him to (and through) this line of work. Amid the various methods he learned along the way, it was interesting to see how unpredictable the business of visual comet hunting can be…10 dry years during one period, and then a scant few months between discoveries during another time period.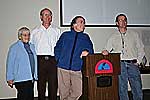 Carolyn Shoemaker, Don Machholz, Brian Skiff and Bill Ferris before Don's presentation
After the presentation, I took the opportunity to ask Don to autograph an 8″ x 10″ photo I had taken of C/2004 Q2 last year as it passed near the Pleiades. He was also kind enough to autograph my observation record sheet from December 11, 2004. He is certainly a very personable and gracious guy. After that, a number of folks headed over to Beaver Street Brewery for a bit to eat and drink.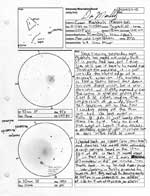 [edit: September 3, 2006 – I finally got around to scanning the record sheet. Click the above image for a larger version.]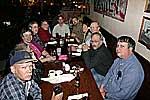 Clicking the above image will take you to a larger labeled rollover showing who is who.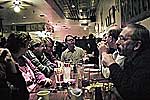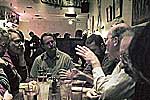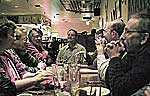 I also had the pleasure of meeting Tom and Jenn Polakis of the Saguaro Astronomy Club, who had accompanied Don to Flagstaff. During dinner, Dave Healy made a great event even better when he invited me to join him, along with the Polakises, Don Machholz, Rick Rotramel, Brent Archinal and Brian Skiff for observing at the Clark Telescope later in the evening.
Since I was a bit of an…uh…8th wheel, I tried my best to keep a low profile. I was just stoked to hang out, listen to the conversation, and get some photos. From the outset, it sounded like seeing was just horrible. I hope the presence of one extra warm body in the observatory wasn't making the difference between mediocre and useless seeing, but then I'm pretty neurotic and nervous that way. I kept my coat buttoned up tight, my hat pulled down, and my breathing measured. In any case, from the sounds of things, Mars was nothing but a fluttering ball of orange-white goo. I didn't bother taking a gander myself, so I can't give you my first hand impression. I was occupied enough just listening in and grabbing photos. From the sounds of things, M1 was a no-show, and the moon wasn't much better than Mars. Frustrating viewing conditions are a bummer, but it is still extraordinary to walk the same circuit Percival Lowell did over a century ago as he made the astounding observations and sketches of Mars that helped put the observatory on the map.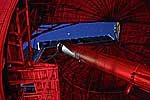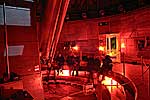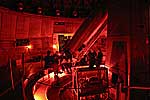 In the first image, Mars glitters just above the tip of the 24″ Clark Refrator. The other two shots show the group waiting their collective turns to try and eke a moment of stability from the view.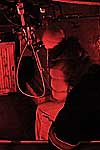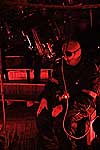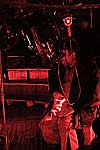 Three observers take their turn at the eyepiece. Left to right: Tom Polakis, Don Machholz, Brent Archinal.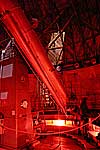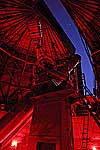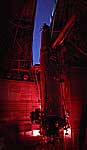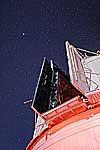 More shots of the Clark Refractor and the beautiful machinery that points it toward the heavens. The last image shows the shutters of the observatory exhaling on the blazing ember of Mars.
Images shot by Tom Polakis can be found here.
Some discussion afterward sparked the idea of scheduling a 90-minute evening myself. Perhaps sometime next Summer when the seeing has the potential to be a little more cooperative. Who knows, I might even be able to lure in a few other interested parties to soak up some history while observing. Yeah. I think that would be awesome.