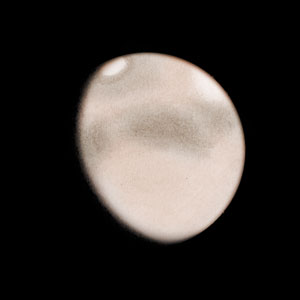 Move mouse over image to view labels.
East and West noted in the sketch are Martian E/W, not celestial E/W.
Observation Notes:
The dark band of Mare Cimmerium and the point of Syrtis Minor were prominent along the southern hemisphere. The South polar Cap was not as prominent as it was a month ago. It looks like I also picked up the division between Cimmerium and Tyrrhenum. There appeared to be dark material arrayed broadly around the SPC. (Not the thin dark border I've been seeing–this feature was softer and much broader.) The bright patch of Hellas on the southwestern limb almost appeared as a second polar cap when I first looked. I didn't pick up any detail in the northern hemisphere. I saw no hint of Utopia.
Subject
Mars
Classification
Planet
Position*
Aries [RA: 02:54:37 / Dec: +13:45:45]
Size*
13.6″ (Equatorial diameter)
Brightness*
-0.92
Date/Time
August 27, 2005 – 1:30 AM
(August 27, 2005 – 08:30 UT)
Observing Loc.
Flagstaff, AZ – Home
Instrument
Orion SVP 6LT Reflector (150 mm dia./1200 mm F/L)
Eyepieces/Mag.
10 mm Sirius Plössl+ 2X Barlow (240X)
Conditions
Clear, calm, 49° F
Seeing
Ant. III-IV
Transparency
Mag 5.2 NELM
*Sources
Orion's The Sky Astronomy Software