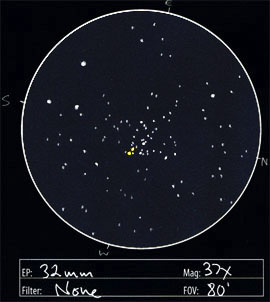 Observation Notes: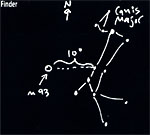 This is a triangular arrow shaped cluster with its tip pointing southwest. This southwest tip hosts one orange and one yellow star. In the center lies a trapezium-like arrangement of stars. The main body appears to be 16′ in diameter. The brightest neighboring star lies 30′ to the southeast.
Factoids:
M93 lies 3600 light years away and its 80 or so member stars span 20-25 light years across. Its brightest stars are B9 Blue Giants, and its age is estimated at 100 million years. While its stars form a triangular shape, Kenneth Glyn Jones found it to look like a butterfly, while Admiral Smyth found it more like a starfish. It was one of the last deep sky objects discovered by Charles Messier personally and was cataloged in 1781.
Subject
M93 (NGC 2447)
Classification
Open Cluster
Position*
Puppis [RA: 07:44.6 / Dec: -23:52
Size*
22′
Brightness*
6.0
Date/Time
February 4, 2005 – 9:15 PM
(February 5, 2005 – 04:15 UT)
Observing Loc.
Flagstaff, AZ – Home
Instrument
Orion SVP 6LT Reflector (150 mm dia./1200 mm F/L)
Eyepieces/Mag.
32 mm (37X)
Conditions
Clear, 29°F
Seeing
2/10
Transparency
Mag 5.0
Sources
SEDS
*Based on published data.