The full Moon was rising on a clear evening with fresh snow on the ground. I knew Sunset Crater would be in top form, veiled in white, with the Belt of Venus framing it beautifully. I wasn't sure whether the moon would be in good position to add the finishing touch. I gave it a shot anyway—it was a learning opportunity. The Moon was not in a great location. At nine degrees up at 5 minutes after sunset, it was too high for a zoom view of the volcano with the moon in the frame. For the Bonito Park area, the Moon was also too far north for a good pairing. Next time around, I'll need to look for a full moon that has the moon around 3-6 degrees altitude at 5 minutes after sunset. I'd also want the Moon at least 12 degrees further south—about 87 degrees azimuth.
So, after a little research in Starry Night Pro for sunset timings:
The next options for full Moon / Belt of Venus at Bonito Park / Sunset Crater are:
March 4, 2015, 6:25 PM (6.7° altitude / 87° azimuth)
April 3, 2015, 6:52 PM (5° altitude / 98° azimuth) other side of the crater
October 26, 2015, 5:40 PM (2° altitude / 82° azimuth) hike to south side of Bonito Park
For other opportunities, some good full Moon / Belt of Venus pairings in northern Arizona:
July 1, 2015, 7:46 PM (3° altitude / 116° azimuth)
July 30, 2015, 7:33 PM (6° altitude / 114° azimuth)
November 24, 2015, 5:17 PM (5° altitude / 77° azimuth)
December 24, 2015, 5:21 PM (1.7° altitude / 69° azimuth)
And a couple of the photos: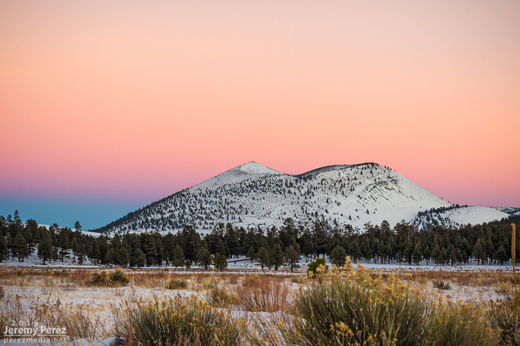 Snow coats Sunset Crater Volcano while
Earth Shadow and the Belt of Venus rise behind it.
Prints Available.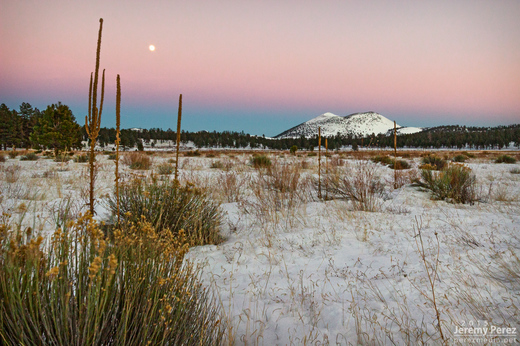 A wider view including the full Moon.
Prints Available.