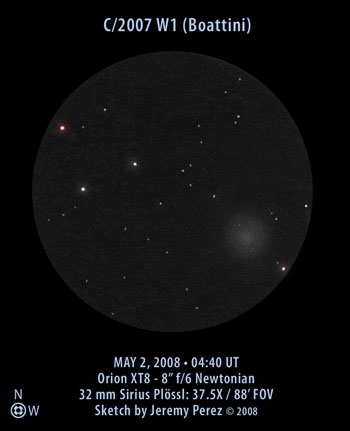 Move mouse over sketch above to view labels. Click image for larger version.
Observation Notes:
Conditions for viewing the comet were much better tonight. Little wind, and improved transparency. As a result, the comet was easier to spot. It was still very soft, but its apparent diameter was closer to 11 arc minutes (compared to 7 arc minutes visible last night). The central condensation was a bit more noticeable as well. Still no suggestion of elongation or a tail. It still fit in the same low power view as V Hydrae, although it was not as nicely placed as the night before. The comet had moved about 50 arc minutes west-southwest since my earlier observation 24.25 hours ago.
Subject
C/2007 W1 (Boattini)
Classification
Comet
Position*
04:40 UT – Hydra: [RA: 10:48:01 / Dec: -21:43:06]
Size
Coma: 11 arc minutes diameter
Brightness*
~ 8.0 vMag
Date/Time
May 1, 2008, 9:40 PM
(May 2, 2008, 04:40 UT)
Observing Loc.
Flagstaff, AZ – Home
Instrument
Orion SkyQuest XT8 Dobsonian
Eyepieces/Mag.
32 mm Sirius Plossl (37.5X)
Conditions
Clear, calm
Seeing
4/10 Pickering
Transparency
Mag 5.0 NELM
*Sources
Aerith.net; Starry Night Pro Plus 5.8
*Based on published data.