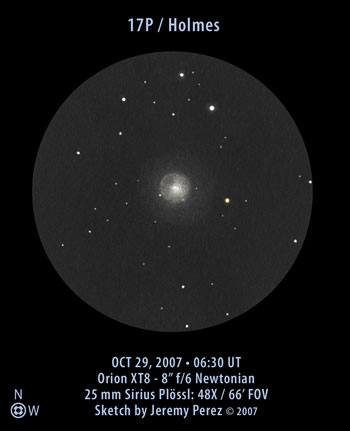 Move mouse over sketch above to view labels. Click image for larger version.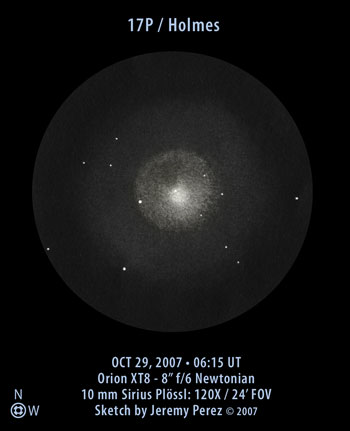 Move mouse over sketch above to view labels. Click image for larger version.
Observation Notes:
The comet has now taken on a sort of off-white newsprint color. The outer halo fades out softly and high thin clouds made it more difficult to hunt for specific patchiness in this structure. The coma was still brilliant, but its edges are showing more distress. The northeast side is sharper, while the southwest side appears to have a more gradual fade out. All around, the edge of the coma has a sort of raggedy, hairy appearance. The central fan structure still points roughly to 220 degrees PA and continues to grow softer. On the opposite side of the pseudo nucleus, the fan wraps around and makes a subtle fork. The annular appearance of the coma is still hard to shake, and although I feel pretty sure that it is an illusion, I am suggesting it in the sketch because it gives that impression visually. I noticed three stars embedded in the coma at high power. The low power view was a beautiful sight with a number of bright stars framing the comet. To the naked eye, the definite disc-shape continues to become more obvious, although still tiny. I think it's going to be a pretty compelling naked eye sight when we get to new moon in less than a couple weeks.
Subject
17P / Holmes
Classification
Comet
Position*
6:30 UT – Perseus: [RA: 03:48:59.2 / Dec: +50:24:39]
Size
Central condensation: 103 x 69 arc seconds / 1.7 x 1.2 arc minutes
Coma: 404 arc seconds / 6.7 arc minutes
Outer halo: 1070 arc seconds / 17.8 arc minutes
Brightness*
~ 2.5 vMag
Date/Time
October 28, 2007, 11:00 – 11:45 PM
(October 29, 2007, 06:00 – 06:45 UT)
Observing Loc.
Flagstaff, AZ – Home
Instrument
Orion XT8 (203 mm dia./1200 mm F/L)
Eyepieces/Mag.
25 mm Sirius Plössl (48X)
10 mm Sirius Plössl + 2X Barlow (240X)
12 mm Meade Astrometric + 2X Barlow (~200X)
Conditions
Partly cloudy (cirrus), calm, gibbous moon
Seeing
3/10 Pickering
Transparency
~ Mag 4.5 NELM
*Sources
Aerith.net; Starry Night Pro Plus 5
*Based on published data.