Step 7 – Finishing the Sketch:
Because the warm glow of orange stars was an important part of this beautiful view, I made sure to note those stars. For simpler sketches, these can be described in your written notes. With a complex cluster like this, you could go through the trouble of taping a small sheet of tracing paper over your sketch and noting the colors on the overlay sheet. Or you could do what I did and lightly mark them directly on the sketch. Because I scan all of my sketches, I can remove these light notations after scanning.
Finally, I took a few moments to fill in the remaining cardinal directions, details about my observing equipment, sky conditions, date and time, and additional written notes about the observing session. The finished sketch can be seen in Figure 10.
Figure 10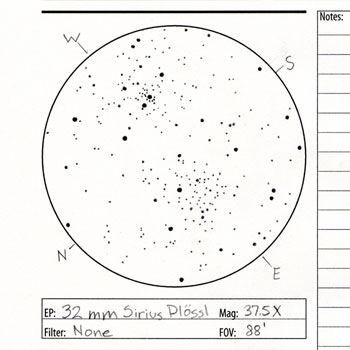 Click image for larger version.
An inverted (positive) version of the sketch can be seen in Figure 11.
Figure 11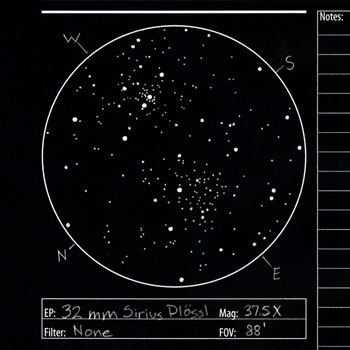 Click image for larger version.
Additional Cleanup
After considering the original sketch for some time, I decided to redraw it. I wanted to make the fainter stars less bold to provide a better sense of variation in stellar magnitude that was apparent through the eyepiece. To do this, I traced the original sketch by taping a new sheet of paper over the original and holding it up to a window. Under well lit, controlled condition, I was able to apply finer control to the pencil and make the fainter stars more subtle. Figure 12 shows this sketch with color added digitally.
Figure 12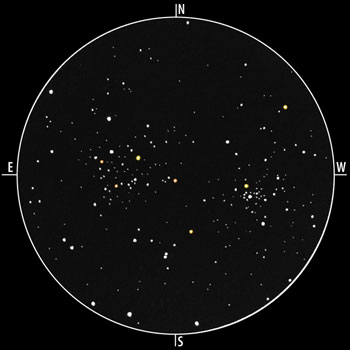 Click image for larger version.
Figure 13 Shows what the sketch looks like with the stars completely redrawn digitally.
Figure 13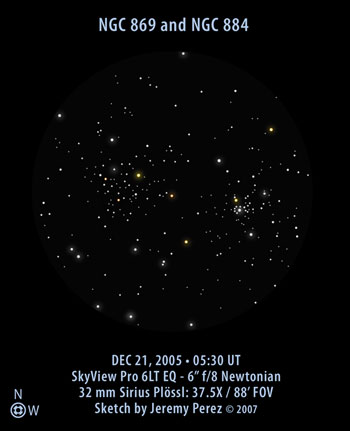 Click image for larger version.
Page 1 of 3 || Page 2 of 3 || Page 3 of 3