37.5X Telescopic sketch of Component C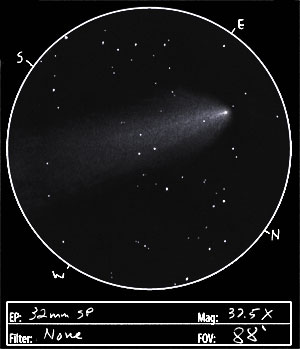 37.5X Telescopic Sketch of Component B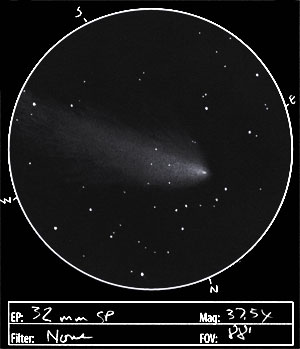 Move mouse over images to see labels.
Observation Notes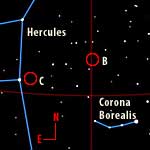 I was out at Cinder Hills Overlook this evening, sharing the cul-de-sac with Bill Ferris and Brent Archinal. The thin crescent of a 2 and a half day old moon anchored the western sky like a solitary rivet lit from below. While we waited for it to set and give us a better view of the deep sky, Bill shared a 399X view of Saturn that was absolutely the best I have ever seen. The C ring was a crisply defined, yet thin gauze of gray. I was treated to detail on the disk of the planet I had never seen before, and the unexpected surprise of the Encke Minima.
After the moon set, the 2 brightest fragments of Comet Schwassmann-Wachmann 3 put on a great show. 'Beautiful' is the word that I can't shake when I recall how they lit up the eyepiece. I've tried to capture that soft wonder in the sketches above, but it just isn't possible.
The tail of C swept off the southwest edge of the 88′ wide field of view. The brighter, longer, inner fan of the tail was brightest along its southeast edge. Near the coma, this portion of the tail was further enveloped by a fainter, broader fan. At 240X, the pseudonucleus appeared stellar and an elongated bright streak flowed out to the southwest. I plotted it's first position at 10:30 pm, and by 1:00 am when I returned, it had moved outside of my original sketch area (so that point isn't marked in the rollover graphic).
B was a bit fainter, but still wondrous. The tail also streamed away to the southwest, and was brighter along its northwest edge. A fainter gust fanned off the southeast side of the coma. At 240X, the pseudonucleus was soft and elongated. It hinted at clumpiness, but I didn't spend much time examining the high-magnification details. Bill offered me a view of the R fragment through his 18″ scope, and although faint, it was nice to have seen it.
I also observed and sketched the B and C fragments in my 10 x 50 binoculars. The sketch was brushed onto a pre-printed star chart of the area. The C component was brightest, with its narrow tail stretching to the southwest and a little more than a degree in length. The B component was fainter, with a wide fan-shaped tail that was about 3/4 of a degree in length. Both were separated by a bit more than 8.5 degrees. Unfortunately, they didn't share the same binocular field like they did a week ago, but it was still nice to catch 2 bright comets so close to each other.
10×50 Binocular Sketch of Components B and C on pre-printed star chart

Move mouse over image to see labels.
Factoids
Subject
73P/Schwassmann-Wachmann 3 – Components B and C
Classification
Comet
Position* (J2000)
Hercules and Corona Borealis
Component C
APR 30, 2006 05:30 UT – [RA: 16:37:08 / Dec: +31:45:10]
APR 30, 2006 08:00 UT – [RA: 16:38:14 / Dec: +31:48:42]
Component B
APR 30, 2006 06:30 UT – [RA: 15:58:14 / Dec: +34:26:19]
APR 30, 2006 07:50 UT – [RA: 15:58:39 / Dec: +34:30:13]
Size
Component C: Coma: 6′ / Tail: 70'+
Component B: Coma: 5′ / Tail: 60′
Brightness*
Component C: ~8
Component B: ~8.5
Date/Time
April 29, 2006 – 10:30 – April 30, 2006 – 1:00 AM MST
(April 30, 2006 – 05:30 – 08:00 UT)
Observing Loc.
Cinder Hills Overlook, Sunset Crater National Monument, AZ
Instrument
Orion SVP 6LT Reflector (150 mm dia./1200 mm F/L)
Eyepieces/Mag.
32 mm, and 10 mm Sirius Plössl (37.5X, 120X), and 10 mm Sirius Plössl + 2X Barlow (240X)
Conditions
Clear, calm early–breezy later, 54°F
Seeing
3-5/10 Pickering
Transparency
Mag 6.8+ NELM
*Sources
Starry Night Pro Plus 5;Aerith.net