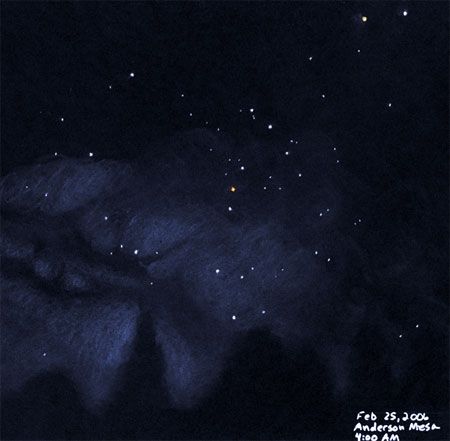 Move mouse over image for labels. Click image for larger, unlabeled version.
Observation Notes:
Near the end of a great all-night observing session, the Milky Way was an impressive sight along the eastern horizon. I wanted to catch some of the dark nebulae in Ophiuchus, particularly the Pipe Nebula. The main portions of this nebula include Barnard 59, the stem of the pipe; Barnard 78, the bowl of the pipe; and Barnard 77, the smoke emerging from the pipe. I made a naked eye sketch of the area, including Ophiuchus, Scorpius, Libra, and a bit of Sagittarius. M8 and M24 showed up as bright patches in the ribbon of dark splitting the Milky Way in this area. Antares was an eye-catching orange, and Jupiter a brilliant ivory. A jagged base of ponderosa trees frames the bottom of the view.
I had borrowed some diopter flippers from my optometrist, and they helped immensely to view this area without a telescope or binoculars. Stars were much clearer, and definition in the Milky Way easier to discern. The sketch was made on black paper with what I thought was a white pencil. After dawn added some light to my notes, I discovered the sketch was made with yellow pencil (which looks white under a red light =). The scanned image has been adjusted back to a more natural color.
Subject
Ophiuchus, Sagittarius and Scorpius Milky Way
B56, B77, B78, M8, M24, Jupiter
Classification*
Misc.
Position*
—
Size*
—
Brightness*
—
Date/Time
February 25, 2006 – 04:00 AM MST
(February 25, 2006 – 11:00 UT)
Observing Loc.
Anderson Mesa, AZ
Instrument
Naked Eye
Eyepieces/Mag.
-.75 diopter flippers
Conditions
Clear, calm, 18°F
Seeing
3-4/10
Transparency
Mag 6.8
*Sources
—