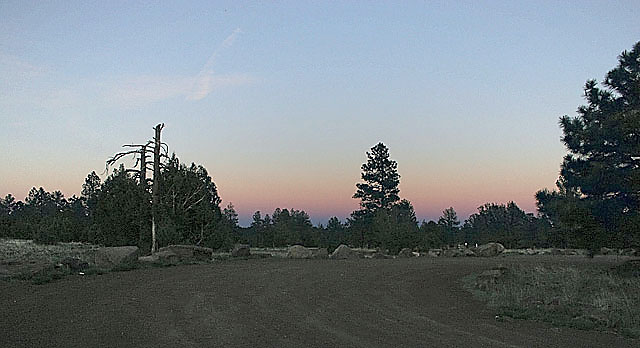 The Belt of Venus rises in the east at the Anderson Mesa observing site.
For somebody staying in Flagstaff, Anderson Mesa is a very convenient, true dark-sky observing site. From the Lake Mary Road turn, it is less than 12 miles to the site. Anderson Mesa is in the Coconino National Forest, so it is open to the public as long as there are no forest restrictions or closures. The sky above Anderson Mesa is among the clearest, darkest, steadiest, and readily accessible in the US. Visitors who arrive at the site before the sky gets too dark may enjoy a short walk down the paved observatory road to get a look at some of the Lowell Observatory facilities (the Anderson Mesa domes are otherwise closed to the public). As you spend your evening observing, you may enjoy knowing that you'll be in good company, as professional and academic astronomers are studying the sky just a few hundred yards down the road.
As with the first time visiting any unfamiliar area, arriving before dark can be very helpful in being sure you find the site. The short gravel parking area just north of the domes can comfortably accommodate four or five vehicles and telescopes. (More vehicles and observers can use the area, but it may require parking along the access road and carrying equipment to a useable spot–be sure not to block traffic.) A few nearby trees will dictate what part of sky will be hidden from view, so be sure to choose a spot that gives you the most open view of the area you intend to observe. For overall darkness, the sky to the east, south, and of course overhead, are the best since the modest Flagstaff light dome effects the northwest sky.
Because the site is near some popular campgrounds, and near town for that matter, the road to the site does suffer from vehicle traffic during the night. A convenient bend in the road and good acoustics will usually give you fair warning of approaching vehicles so you can take steps to protect your dark adaptation. Due to this vehicle traffic (and regular air traffic), astrophotographers will need to be diligent to avoid compromised exposures.
At an altitude of 7200 feet, Anderson Mesa gets cold–especially so in the winter–so observers will want to bring warm clothing no matter what time of year.
---
---
Site Information
Site Name
Anderson Mesa
Coordinates
35° 6′ 1.5″ N / 111° 32′ 11.5″ W
Elevation
7230 ft (2203 m)
Directions
From the I-40/I-17 interchange, head north into Flagstaff. At the first traffic light (Forest Meadow Street) turn left. Turn left again at the next traffic light (Beulah Blvd). Go to the third traffic light (Lake Mary Rd.) and turn left. Take Lake Mary Rd. 9.7 miles and turn left just past the sign for Marshall Lake and NPOI. The observing site is 1.5 miles up the hill on the left, just before the first Lowell Observatory dome.
Accessibility
Easy access. Paved road all the way to the parking area. Parking area is packed cinder.
Capacity
Parking area easily accommodates four or five vehicles and equipment. More observers can fit tightly, or park along the access road and carry equipment to a useable spot.
Horizon
Some nearby trees will require strategic telescope positioning to be sure areas of interest are not blocked. More distant trees from east-southeast to southwest to northwest will roughly block 10 degrees of horizon. North and northeast horizon are very good.
Light Domes
Modest Flagstaff light dome is noticeable to the northwest. Much less noticeable light from Phoenix, 100 miles distant can be detected to the south.
Weather
Temperature Ranges
Jan: Avg. Max: 43° F / Avg. Min: 17° F
Apr: Avg. Max: 58° F / Avg. Min: 27° F
Jul: Avg. Max: 82° F / Avg. Min: 50° F
Oct: Avg. Max: 63° F / Avg. Min: 31° F
Nocturnal cold air drainage is not a problem at this site. All Northern Arizona sites are susceptible to cloudy weather during the monsoon season which runs on average from early July through mid-September. The months of May and June are on average the most reliably dry months of the year.
Incidental Traffic
Recreational traffic from Lake Mary, Marshall Lake, and Flagstaff itself can be a regular occurrence at night, especially during weekends. Keep your ears open for the sound of cars driving up the hill to the Mesa so that you can be prepared to protect your dark adaptation as they pass by.
Seeing
Seeing is typically good at this site.
Transparency
High elevation and typically dry air make for excellent transparency.
Site Assessments from Other Observers
Brian Skiff
Photo Gallery
Updated July 31, 2007.